Hideout TV Referral Code/ Link – Singapore Review
Hideout TV is a good and legit GPT site to earn rewards by watching videos, or rather watching ads and videos because you earn rewards from viewing the ads. Therefore, if you skip the ads, or if there are no ads in the videos that you watch, you won't receive points.
This is my Hideout TV referral code/ link: https://hideout.co/viewerSignup.php?refer=3734391
Hideout TV – How To Earn?
There are no direct and immediate rewards for you if you sign up only for Hideout TV, other than having an account to watch ads/ videos and earn rewards, but if you also sign in to LootUp.me after you have signed up for Hideout TV, you can receive USD$5 in your LootUp account, upon earning 10k points within a month. It is quite easy to achieve.
Alternatively, you can also sign up directly with my LootUp referral link: https://lootup.me?refer=3734391, and you will be able to receive a free USD$5 upon attaining 10,000 points within a month. Then you can just log in to Hideout TV with the same ID and password that you have created for LootUp and earn while you watch videos.
This is because, LootUp.me and Hideout TV are linked, so once you have signed up on LootUp, you can automatically login to Hideout using the same login information. It works the same way too if you sign up for Hideout, which you can login to LootUp using the same login details.
And this is my referral code/ link: https://lootup.me?refer=3734391 for LootUp.me.
Hideout TV Free Points/ Daily Login Rewards:
When you login everyday, be sure to click on the Rewards tab below the video where you can claim free daily points, by clicking on Redeem Daily Promo Code. You don't have to seek out a promo code, it's automatically there when you login everyday.
It is not as good as the Spin The Wheel from LootUp but it's free. 😜
Videos (Ads) Watching:
For HideOut.tv, I believe the points you receive for watching ads differ according to the countries you are in.
For Singapore, my usual rate is about 1.4 to 1.6 points per short video (which usually has about 2-3 ads).
I believe it is way higher in the US or even in Europe.
You can leave the videos to run but make sure that it's an active browser. If not, you won't receive points. Hideout will also check once in a few hours to make sure you are still watching. Just click on the Still Watching to continue, though I would highly suggest that you click on it once in awhile, either to change videos or skip ads.
How To Tell If You Are Earning Points?
When the video reaches the end, or sometimes in the middle if it's a long video, you can see your points bar turning green and points will appear as an add on, as shown below. This is when you can skip that video or move on to the next and the points will be credited.
However, if your bar turns green and you don't see the add on points, I would suggest that you stay on that video and observe it for a bit to make sure there are ads and if you actually did get credited. If not, try to watch another video or try another user/channel.
How To Withdraw From HideOut.tv?
There are two ways to withdraw your points from HideOut TV (hideout.co) and they are to redeem for gift cards, or to transfer your points.
Redeem Gift Cards:
Unlike Loot.tv where you can only convert your points, Hideout allows you to redeem your points from Hideout TV directly for a Visa Prepaid Card (USD).
Transfer Points: (*Recommended!)
Alternatively, you may also transfer out your Hideout TV points.
Click on Transfer Points > Start Redeem Process
As there are many GPT channels associated with Hideout TV where you can redeem your points from Hideout to, it might be hard to decide where to redeem your hideout points. One way is to just link all of them in your account and go through them manually to see which one gives you the highest payout. It's a bit troublesome but you only have to do that once, and you can unlink those that aren't worth it.
However, the best place I have came across so far, would be to transfer your points to LootUp.me as it has the best rate.
I calculated and it is roughly about 1.11 times.
This is to say if you have 1000 points in Hideout TV, you can receive about 1110 points in LootUp, which equate USD$1.11.
For the other channels which I have tried (I only tried a few which I have accounts with) and they are all lower or way lower after conversion.
Also, if you have your bonus earning rate activated (at LootUp) at the time of transferring/ redemption, you will receive bonus points too. As of Aug 2023, the bonus earning rate can only be earned through Offer Loot Chest, depending on your Reward Tier.
This below example is based on the previous Daily Wheel Spin bonus but the current new Offer Loot Chest bonus works the same way.
For example, if you transfer 9009 points from Hideout to LootUp, you receive about 10,000 points in your LootUp account, and if you have the 50% bonus earning rate at that time, you will receive an extra 5000 points. This means that by transferring USD$10 worth of Hideout TV points to LootUp, you receive an extra USD$5.
I did just that and received 6870 points in LootUp after conversion. As I have the 50% bonus multiplier activated now (for 24 hours), and I did the transfer from Hideout.tv to Lootup.me, thus I received an additional 3435 points. Therefore, this transfer gave me 10305 points = USD$10.3 instead of the original USD$6.87.
If you are interested to find out more about LootUp, you can refer to this LootUp.me referral post of mine.
Cons of Hideout.tv:
You can't and won't earn a lot from it here in Singapore.
Also, you will need to check on it once in a while to make sure your earnings are increasing or that there are actually ads playing in the videos. Lastly, Hideout TV will check if you are still watching every few hours, so you need to click and confirm in order to continue playing the videos.
Other than these, it's really quite easy.
Proof Of Payment Hideout TV:
This is my transfer from Hideout.tv to LootUp.me with the 50% earnings activated in Loot Up.
I find it good to earn a bit from this when I am working or even doing surveys, as I just need to split screens. Also, I only do the transfer to LootUp every time I manage to get the 50% earnings bonus activated.
Therefore if you are interested to sign up for Hideout TV, click on this link or the banner below.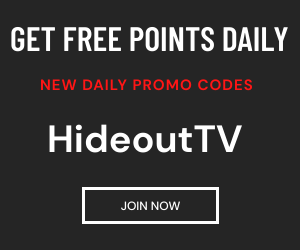 Tips:
– My advice is — usually the video will start with an ad, so if you don't get an ad right at the start, skip to the next video to try. If it is a short video, you can even try watching it because most of the time ads will appear in the video.
If you continually don't get ads at the start, change to another channel.
– Do not expect to earn a lot from this, if you are in Singapore as the rates aren't that high and you can't run it 24 hours daily.
However, it is still a good way to earn it passively as you go about doing your work or studying while you use your laptop or PC. At least that is what I do. 🙂
– Do check your Hideout tab once in a while when you are running it because it will automatically check if you are still watching after a few hours.
Some of the videos are actually quite interesting and you can find quite a big genre there.
– Try not to leave your videos running overnight non-stop. I have read that sometimes users do that and get banned.
Have fun watching and earning. 😜💰